X-Tronic Model #3020-XTS 75 Watt Digital Display Soldering Iron Station - 10 Minute Sleep Function with Auto Cool Down, C/F Toggle Switch, Ergonomic Grip Soldering Iron, Solder Roll Holder, Brass Tip Cleaner with Supply of Cleaning Flux & Wet Sponge.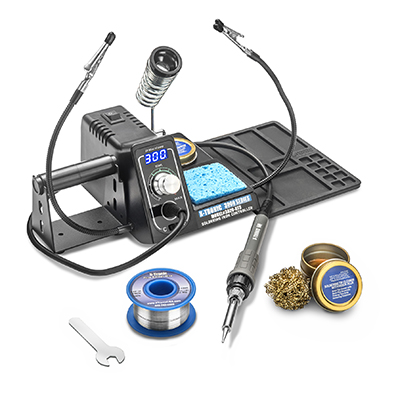 The X-Tronic Model #3020-XTS is an ESD Safe Antistatic 75 Watt Soldering Iron Station with Many Features & Extras Included!
The X-tronic 3020-XTS is a Low Cost, but High Quality 75 Watt Soldering Iron Station (60 Watts for the Heating of the Soldering Iron & 15 Watts to run the Mini Motherboard in the Iron) with some Great Added Features. This Complete Kit is manufactured for the Beginner as well as the Expert and will Exceed your Expectations with its Quality & Durability compared to any other Soldering Iron in its Class.
This unit Features a Blue LED Fully Adjustable Temperature Display, a 10 Minute Sleep Timer with Auto Cool Down Function and a C/F (Celsius/Fahrenheit) Switch. The Soldering Iron Features an Ergonomic Heat Resistant Grip and the Base Unit Features a Set of 2 Helping Hands, a Side Mounted Solder Roll Holder (Roll of Solder Not Included), a Brass Sponge Soldering Tip Cleaner with a Good Supply of Cleaning Flux and a Heat Resistant Chrome Coated Soldering Iron Holder.
This unit also Features a PID (Proportional-Integral-Derivative) Technology Program built into it which is commonly referred to as Magic Temperature Compensation Technology. This program cycles every 20 milliseconds to detect the actual temperature of the soldering iron's heating element/soldering tip and quickly corrects it with a rapid return to the correct set temperature. This Magic Temperature Compensation Technology also helps keep the soldering iron at a constant temperature no matter what type of job you are working on. This unit also has a Self Test Function with Full Intelligence on Over-Temps, Short Circuits and Overloads.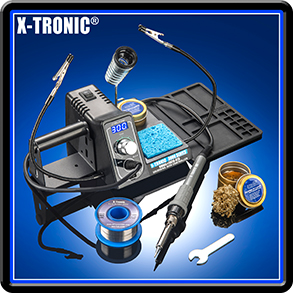 The first photo (above left) shows the X-Tronic 3020 Soldering Station with all parts and assembled including the new set of Helping Hands & Heat Resistant Silicone Mat that are now included with this Complete Package.
The 2nd photo (above right) shows the 2 Helping Hands used to prop up a PCB in front of the unit so you can work on it right in front of the soldering station.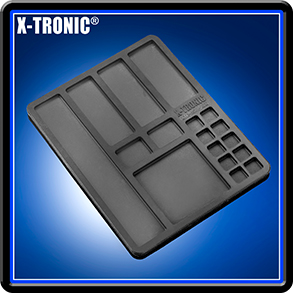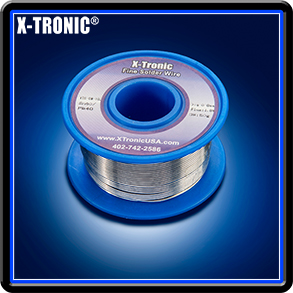 The Heat Resistant Silicone Tool/Parts Mat that comes with our X-Tronic 3020-PRO Soldering Station (shown in the 1st photo above) measures 5-3/4" x 4-3/4".

The 2nd photo shows the included 50 gram Roll of 60-40 Tin Lead Rosin Core Solder Wire. This Roll of Solder fits Very Nicely on the Side Solder Roll Holder that is attached to the side of the Soldering Station.

The 1st photo (above left) shows a close up of the Control Panel with the Brushed Metal Control Knob, the Blue LED Temperature Display and the C/F (Celsius/Fahrenheit) Toggle Switch

The 2nd photo above shows the 60 Watt Soldering Iron with a Very Comfortable Ergonomic Grip that comes with this unit. The Temperature Range of this Soldering Iron is 194°F~896°F/90°C~480°C with a Temperature Stability of ±3.6°F/2.0°C.

The 3rd photo (above right) shows the new Set of Helping Hands that now come with this unit. These 2 Helping Hands screw into each side of the soldering station and are Very Helpful when working on Small PCB's to have them propped up to work on right in front of you. Of course this Set of Helping Hands come with each unit, but it is optional if you wish to attach and use them or not. There is a wrench included to tighten these to each side of the unit securely.
The first photo (above left) shows the Tempered/Hardened Steel Soldering Iron Holder with a Heat Resistant Collar manufactured from Bakelite to stop any Heat Transfer.
The 2nd and 3rd photos (above middle and right) show the Brass Sponge Cleaning Tin which also contains a Nice Supply of Solid Rosin Cleaning Flux at the bottom of the tin for cleaning your soldering tips which we are sure you will appreciate. There is also a Wet Sponge included for further cleaning.
This 3020-XTS Complete Kit is shipped directly from our X-Tronic Sales/Service/Distribution Center located here in Lincoln, Nebraska - USA!!!

This Complete X-Tronic 3020 Soldering Station Kit Includes:
1 - 75 Watt Soldering Iron with Ergonomic Grip
1 - Soldering Iron Control Base Unit
1 - Solder Roll Holder mountable to the side of the Control Base Unit
1 - Chrome Soldering Iron Holder
1 - Brass Sponge Tip Cleaner with a Good Supply of Cleaning Flux at the Bottom of the Tin
1 - Wet Sponge for Further Cleaning of your Soldering Iron Tip

Product Specifications:
ESD Safe

Soldering Iron Output: 75 Watts

44" Soldering Iron Cord with Virtually No Memory

55" Power Cord from Control Unit to Wall Plug

10 Minute Sleep Timer Function

Auto Cool Down Function

Celsius to Fahrenheit Toggle Switch

Blue LED Temperature Readout on Control Unit

PID (Proportional-Integral-Derivative) Technology - often referred to as Magic Temperature Compensation Technology

Temperature Range: 392°F~896°F/200°C~480°C

Soldering Iron Temperature Stability: ±3.6°F/2.0°C

Storage Environment: -68°F~176°F/-20°C~80°C

Shipping Weight: 2 Lbs.

Actual Unit Weight: 1.5 Lbs.

AC 110V/120V - 60 Hz - NO 220V Available

UPC: 892198000586
3 Year Warranty

ALL STX International Products come with a 30 Day Unconditional Money Back Guarantee and also come with a 3 Year Fix/Repair Warranty with the Cost of Parts & Labor Included

Shipping & Handling is FREE to the 48 Contiguous United States via UPS Ground!


We offer shipping to Alaska and Hawaii, the cost will be calculated in your cart for your review BEFORE you pay. We are working on a shipping solution to Puerto Rico, Guam, Virgin Islands, APO/FPOs, and Canada. If you would like to order before we have that solution you can call us to place a phone order.

We take PayPal & The Following Credit Cards for Payment.




All X-Tronic® Products are Proprietary and Manufactured Exclusively for our Company by our ISO 9001-2000 Certified Factory and come with a Signed and Dated 3-YEAR - 100% Guarantee!